A gear is a mechanical component that transfers mechanical power from one shaft to another. Gear transmission is a common method used to transfer mechanical power. For example, bicycle gears use a chain to transfer force from the pedals to the back wheel. Similarly, a car's driveshaft uses gears to power the wheels. Gears are necessary to harnes the power of an engine's revolving crankshaft. Read More…
Gear Drives
Gear drives are mechanisms designed to alter the speed, torque or direction of rotating shafts using gear ratios.
Gears vary in size, form, and assembly options. When gears transfer power, they affect motion in three ways: speed, force, and direction. These motions can be manipulated by adjusting the size, shape, and tread of intersecting gears.
Advantages & Disadvantages of Gear drives
Gear drives can effectively allow operators to alter velocity ratios. Although they are small in size, they manage to have a high torque capacity. However, when gears are operating at high speeds, they'll require more lubrication. Gears may be damaged from prolonged use.
Types of Gears
Gears come in different sizes for different applications. For example, gears may be arranged in opposite shafts to transfer power between parallel shafts.
Rack and Pinion Spur
Rack and pinion gears are designed with a small gear (the pinon) on top of the rack, and a straight bar that is notched for the pinion to fit on top. Spur rack and pinions effectively facilitate horizontal motion. The automotive industry often uses helical gears, helical spur gears, or double helical gears. Helical spur gears allow for increased power transmission. Helical gears have inclined teeth.
Spiral bevel gears are also used in automotive applications. Spiral bevel gears tend to have helical teeth and are used to control the wheels through the drive shaft. In a spiral bevel gear, the two spiral gears intersect at a perpendicular angle. Spiral bevel gears tend to be very powerful. Zero bevel gears operate similarly, however, the teeth have a gentle curve instead of a sharp spiral.
A herringbone gear respembles two helical gears side by side, combined into one gear. In herringbone gears, there is no space between the inclined teeth. Cross helical gears are used on shafts that are neither parallel or intersect.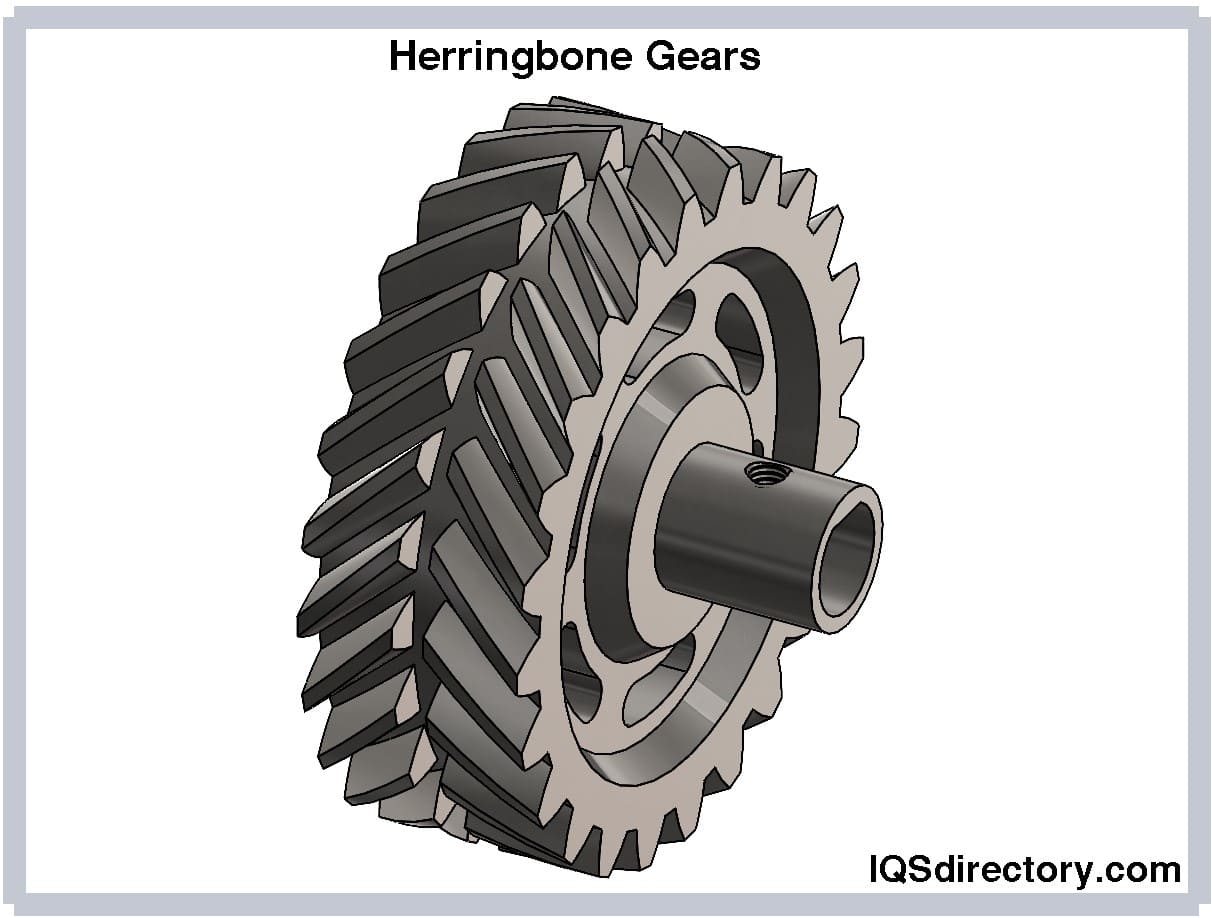 Cross helical gears are used on shafts that are neither parallel or intersect. Worm gears are also known as worm and wheel. 'Worm' refers to a long rod with a spiral. The worm has the power to rotate the gear, but the gear cannot rotate the worm. In hypoid gear systems, the center lines of the two shafts do not cross. Alternately, the shafts in a hypoid gear arrangement have irregularities in their center lines.
Choosing the Right Gear Drive Suppliers
To make sure you have the most positive outcome when purchasing gear drives from a gear drive supplier, it is important to compare at least 4 companies using our list of gear drive suppliers. Each gear drive supplier has a business profile page that highlights their areas of experience and capabilities and a contact form to directly communicate with the manufacturer for more information or request a quote. Review each gear drive business website using our patented website previewer to get an idea of what each company specializes in, and then use our simple RFQ form to contact multiple gear drive companies with the same message.
Gear Drives Informational Video