A gear reducer, also called a gearbox, connects a motor mechanically to a driven load. Gear reducers enable the change of torque and speed of a system with respect to the load. A collection of gears make up a reduction gear assembly. Read More…
Gear Reducers
Widely used in metallurgy machinery, mine machinery, robotics, build machinery and other industrial machines, gear reducers are used to minimize power size and total machine size and handle heavy shock loads.
How Gear Reducers Work
Gear reducers are required for high-efficiency machinery that operates at high speeds. The speed produced by the machinery must be adjustable to fit the required speed. A gear reducer comprises a large gear positioned next to a smaller gear, and both turn together.
When a large gear is coupled with a smaller gear in a single reducer system, the smaller gear produces twice as many revolutions for every singular turn of the larger gear. Speed increases as torque decreases with the repeated spins of the smaller gear.
The gear reduction process takes place at specified ratios of the driver and driven gear. The energy shift is achieved by changing the ratio of the moving gears in a gear reducer.
Types of Gear Reducers
The types of gear reducers include:
Planetary Gear Reducer
A planetary gear reducer contains a sun gear, planet gears, and a huge ring gear. The output shaft, inner gear ring, and sun gear support the planet gears. The sun gear in the middle of the gear configuration is driven by the power, which causes the planetary gears to rotate in lockstep with the inner gear ring.
The planet gears rotate the output shaft attached to the output power. A planetary reducer has a long service life, large carrying capacity, and high output torque, and it is compact, quiet, and efficient. In addition, it has power splitting and multiple teeth meshing, making it a versatile reduction.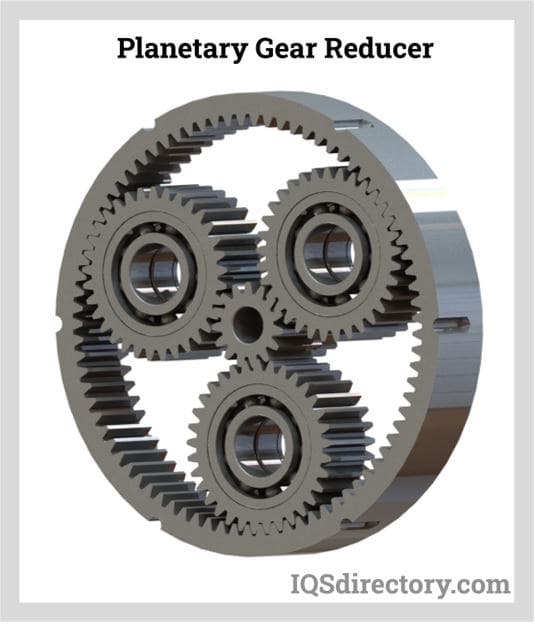 Helical Gear Reducer
Helical gear reducers are another type of space-saving gear reducer with great overload capacity and durability. They're employed for forward speeds with a medium to high gear train.
Helical gears' tooth traces are slanted, resulting in a higher meshing ratio that reduces noise and increases strength. Their synchromesh design provides increased surface area and never disengages.
The helical cut of helical gears has an angular cut that allows the teeth to be longer while maintaining the same number of teeth as a spur gear.
Magnetic Gear Reducers
Magnetic gear reducers are a type of gear reducer that uses magnetic attraction rather than physical contact to reduce torque. They don't have gear teeth; instead, they use opposing magnets that oppose each other, allowing them to apply pressure from any angle.
Magnetic gears work the same way as traditional gears, but they don't touch; thus, they're not impacted by wear. Magnetic gears also don't require any lubrication or sealed barriers. Instead, they are made with permanent magnets or electromagnets.
Spur Gear Reducers
Spur gear reducers feature teeth that are parallel to the axis and have straight teeth. They are the most popular and widely used gear reducer, and they can contain multiple gears with different gear ratios. Spur gear gearboxes are extremely efficient, have little backlash, and are durable and stable.
Bevel Gear Reducers
An angular bell crank on bevel gear reducers allows users to adjust the system's rotation from transverse to longitudinal. They're small and powerful, with three-phase asynchronous motors, synchronous motors, and asynchronous servo motors providing the power.
Bevel gear reducers, like helical and hypoid gear reducers, work quietly while providing excellent performance and energy economy.
Worm Gear Reducers
A worm gear reducer consists of a worm pinion input and a right-angle output worm gear. Worm gear reducers are used to reduce the speed of a motor and provide a higher torque output at a lower speed. Worm gear reducers are perfect for reducing space because of their sleek shape, tiny output gear diameter, and excellent speed reduction they provide in a small container.
Hypoid Gear Reducers
Hypoid gears are cone-shaped gears that transmit power between shafts that do not intersect. Because the small hypoid pinion side is offset from the hypoid gear side, they can pass without colliding. Hypoid gears have a high contact ratio, transmitting higher load while maintaining smooth meshing.
Hypoid gears make less noise than helical gear reducers because of their smooth meshing. Hypoid gear reducers can lower speeds to extremely low levels. When the angle is square, and the distance between the axes is small, hypoid gears are commonly utilized. Hypoid gears are a type of gear that sits halfway between bevel and worm gears.
Choosing the Correct Gear Reducer Manufacturer
To make sure you have the most positive outcome when purchasing gear reducers from a gear reducer manufacturer, it is important to compare at least 4 to 5 companies using our list of gear reducer manufacturers. Each gear reducer manufacturer has a business profile page that highlights their areas of experience and capabilities and a contact form to directly communicate with the manufacturer for more information or request a quote. Review each gear reducer business website using our proprietary website previewer to get an idea of what each company specializes in, and then use our simple RFQ form to contact multiple gear reducer companies with the same quote.
Gear Reducers Informational Video