A worm gear speed reducer has a worm pinion input and an output worm gear angled for perpendicular output. This results in a larger torque value in response to the reduced ratio. Read More…
Worm Gear Reducers
Worm gear reducers are right angle speed reducers used in applications involving low horsepower. Worm gear reducers maintain high gear ratios, high shock tolerance and compact design.
How Worm Gear Reducers Work
A worm pinion is a screw that is used to provide power to an assembly. A worm gear reducer is formed when a conventional spur gear with slightly angled teeth in a perpendicular alignment is combined with a worm gear or worm wheel. The spirals on the worm pinion push the teeth on the worm wheel when it is rotated by engine or motor power. It turns following the designed reduction ratio as it applies the load.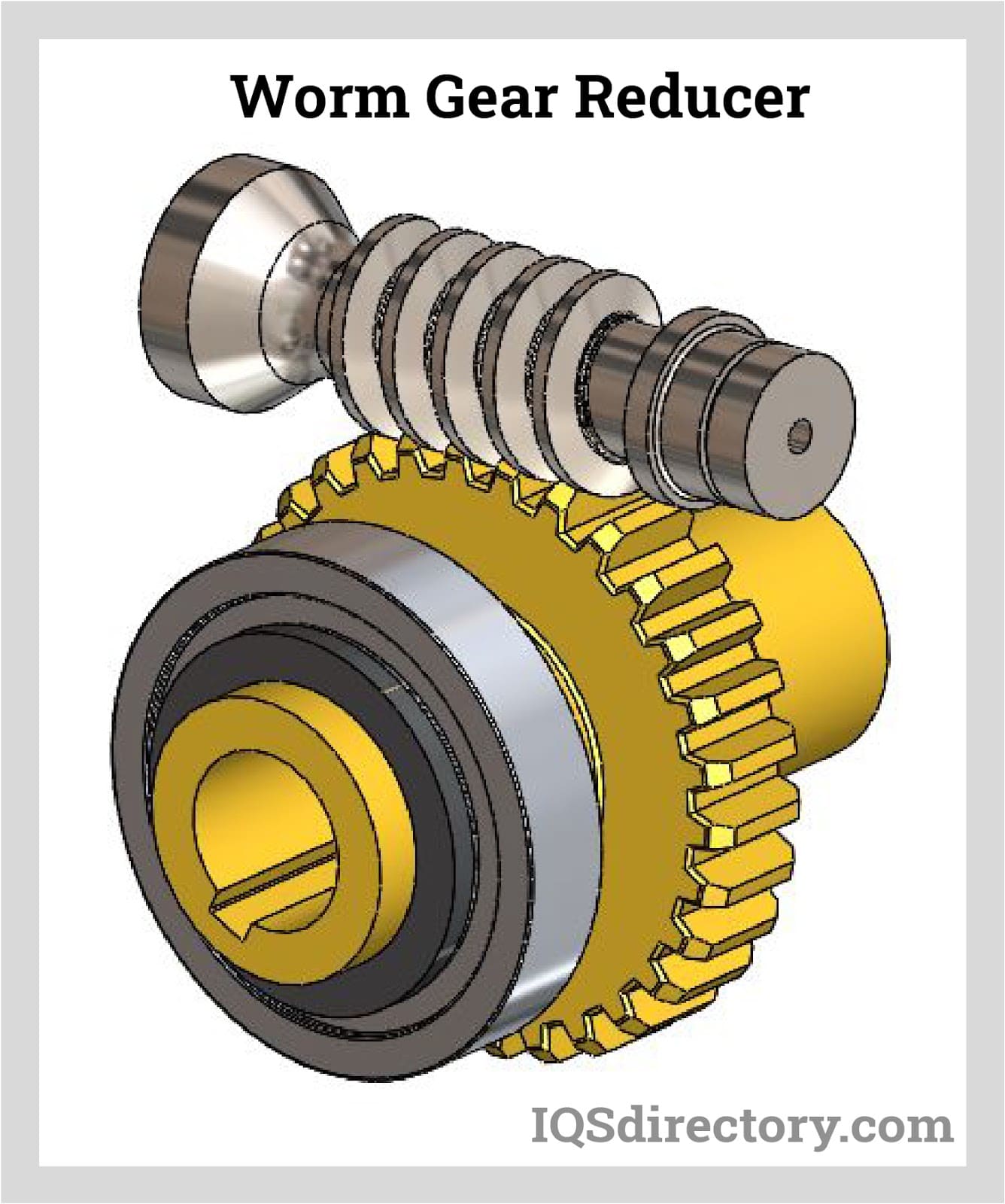 The size of the worm gear or the number of threads on the worm pinion can be increased to achieve higher reduction ratios. However, using standard gear sets to achieve the same reduction requires many reductions, which takes up more space. Increasing the number of parts increases expenses and the chance of component failure. Compared to bulkier, higher-maintenance conventional gear sets, worm gear speed reducers offer effective, space-saving options for speed reduction and enhanced torque.
Design of Worm Gear Reducers
Worm gear speed reducers are a subclass of speed reducers with a primary speed reduction arrangement known as a right angle. They are widely used in the farming, automotive, and manufacturing industries. A helical gear with shallow diagonally cut teeth is one of the main components of this gearbox. Helical gears are the output gears, or the gears attached to the engine, in a worm gear reducer. They are recognized for their smooth and silent operation.
Another important component of the worm gear reducer system is the input gear, which is formed like a screw and has diagonal cuts like the helical gear, which is why they are frequently coupled together. The two gears can convert a high-speed, low-torque input into the inverse: a high-torque, low-speed input. It's a compact, elegant gearbox that's less expensive than other gearboxes and provides excellent shock absorption.
Types of Worm Gear Reducers
The types of worm gear reducers include:
Ball Screws
Ball screws are employed in things like automobile power steering. The sliding motion is replaced by a rotational motion in these devices thanks to a ball bearing arrangement. The main benefit is that they last longer because the friction and slippage are reduced. In precision machinery, recirculating balls are employed for linear motions, and double nuts are used in some circumstances. In this scenario, a spacer ring is used between the two nuts, allowing for enhanced stiffness and less axial slack. In addition, recirculating balls with rotating nuts, where only the shaft rotates, are utilized if the shaft is at risk of becoming unstable.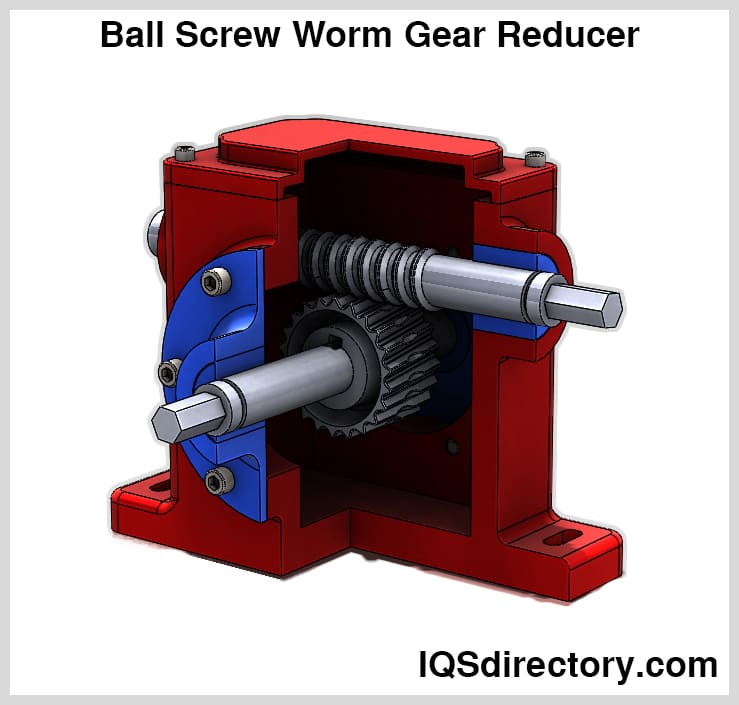 Straight Screw
A worm drive with a straight screw that meshes with a spur gear is one of the most common types. In this case, the worm screw and the worm wheel have no grooves on the outside diameter. A 'throated' worm drive is one in which the worm wheel has a groove in the center of its teeth, while the worm screw's outside diameter stays unchanged.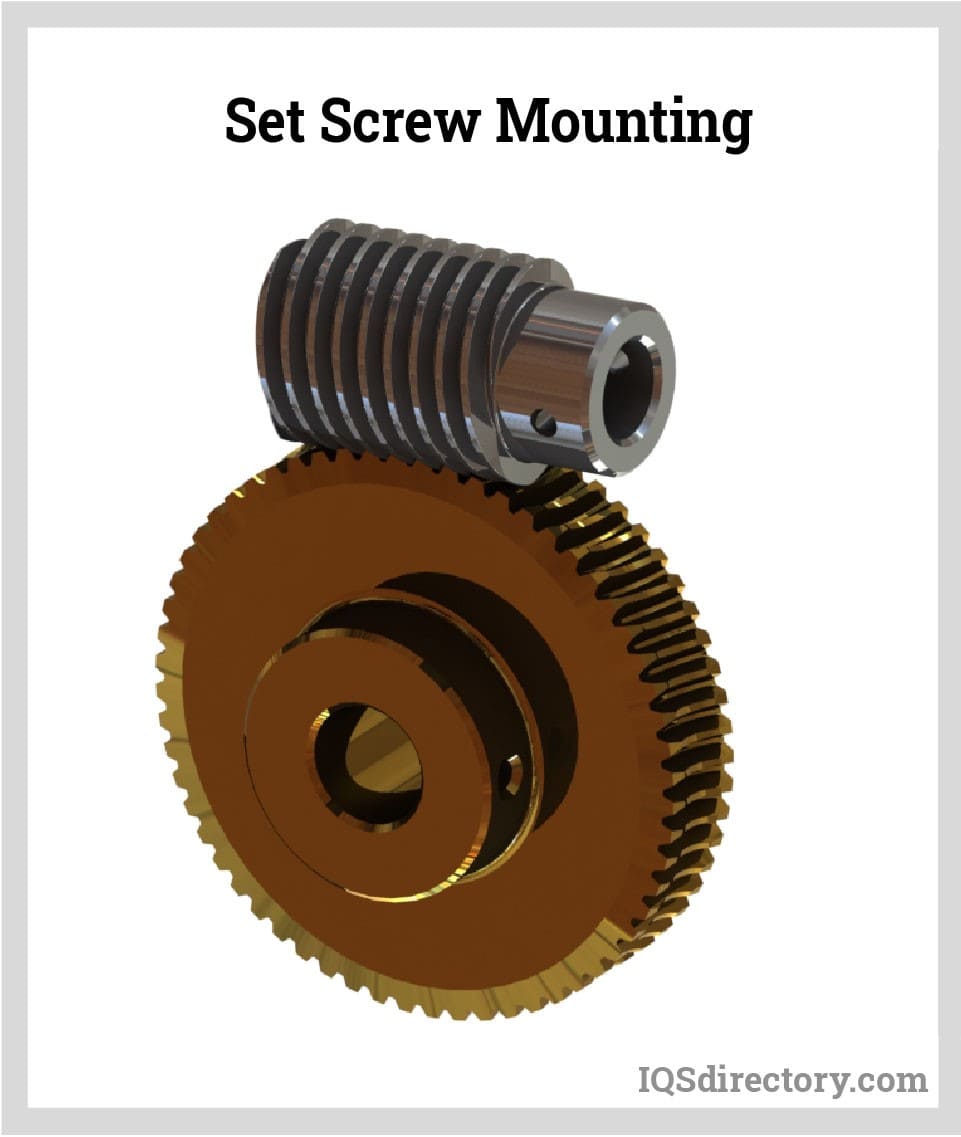 Advantages of Worm Gear Reducers
Worm drives offer a high load capacity despite their small size. Because they are made up of few elements, they are simple to build and design. Worm drives produce no noise, require minor upkeep procedures, and are cost-effective.
Worm gear reducers can be used to create non-reversible drives, or drives that can only be operated in one direction. Another notable aspect of these drives is that they are non-reversible when the worm screw angle is equal to or less than 6 degrees.
Disadvantages of Worm Gear Reducers
Worm drives' main disadvantage is the low performance of these gearbox stages due to high friction and accompanying axial stresses.
Furthermore, the most wear occurs on surfaces subjected to friction, which is why these devices must be extremely robust and correctly calibrated to provide a long service life. The filets may wear out if there is too much contact in the area.
Choosing the Right Worm Gear Reducer Manufacturer
To make sure you have the most beneficial outcome when purchasing worm gear reducers from a worm gear reducer manufacturer, it is important to compare at least 4 companies using our list of worm gear reducer manufacturers. Each worm gear reducer manufacturer has a business profile page that highlights their areas of experience and capabilities and a contact form to directly communicate with the manufacturer for more information or request a quote. Review each worm gear reducer business website using our proprietary website previewer to get an idea of what each company specializes in, and then use our simple RFQ form to contact multiple worm gear reducer companies with the same message.
Worm Gear Reducers Informational Video